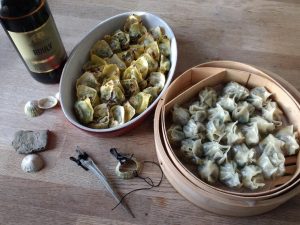 In July 2018 we spent 2 weeks in Stromness, Orkney, in a house close to the southern tip of the mainland, known as Ness Point.
We used the opportunity to see what species of seaweeds we would be able to find on the coast there.
Good advice by Mark Williams helped us choose the right times and tides for our excursions.
Also, note his points on how to harvest seaweed responsibly –
Never pull, always cut.
Take just the upper one third.
Never take rare species. Check what they are!
Spread your picking. Don't take all from one spot.
And, let me add, take any trash and plastic you find on the beach with you, too.
We walked the rocky coast from Ness Point, by the little white lighthouse, below the golf course and up to Warbeth beach, past the Stromness cemetery.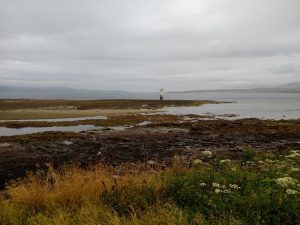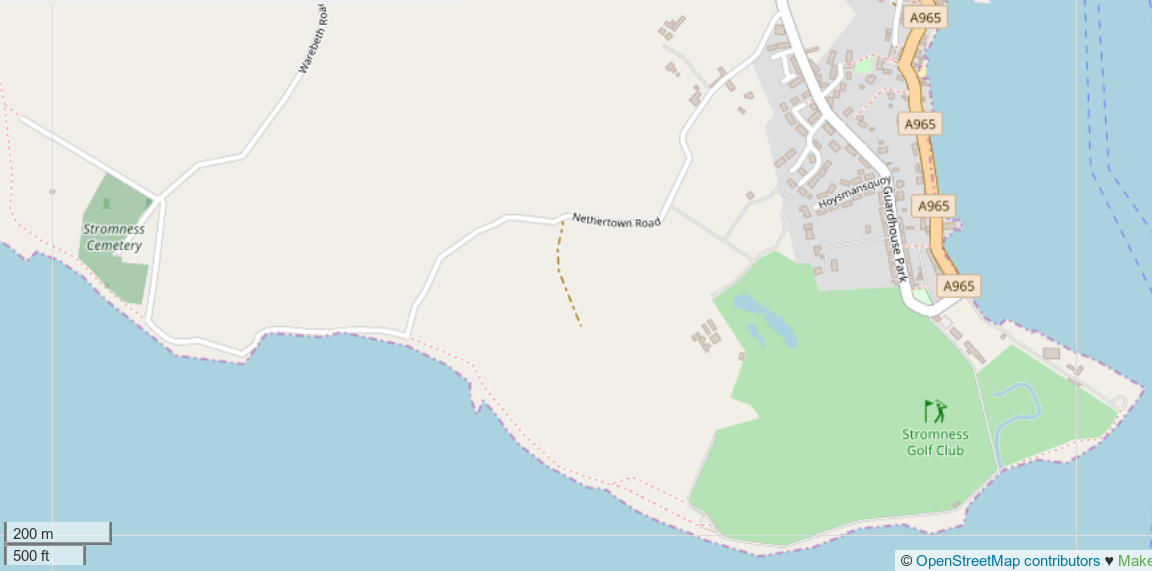 The upper tidal zone of the rocks is largely dominated by Bladderwrack (Fucus vesiculosus), and a mix of other wracks, such as Toothed Wrack (Fucus Serratus), with light green spots of Gutweed (Ulva intestinalis) strewn in.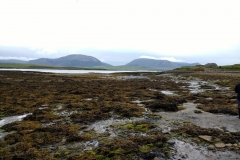 In some places, large pools of rotting wrack produce quite a stench … and, don't walk into those (like i did once, by accident, with sneakers on .. they smell of rotten seaweed to this day …) …. Small birds however love those nutrient pools, as they likely find insects or such there.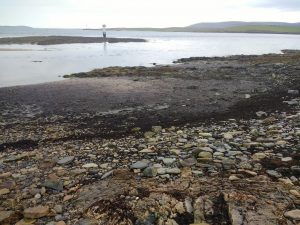 You will also find a lot of torn off pieces of Kelp (Laminaria digitata) and leaves of Sugar Kelp, Saccharina latissima.
Smaller patches of Osmundea pinnatifada are found on rocks from high to lower tidal zones.
It gets more diverse and interesting as you go down, where you will find Sea Spaghetti, Himanthalia elongata,
and Dulse, Palmaria palmata.
Bladderwrack, Fucus vesiculosus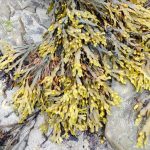 Bladderwrack is known to be a valuable source of oils and ingredients for cosmetics, perfumes, and so forth. Essential oil made from this wrack retails for about $15 for a milliliter, or £15000 for a liter.
It is really good for the skin – just try pop one of these little bubbles and spread the juice on your skin!
While it does not taste bad and can absolutely be used as a somewhat salty spicy addition to salads and fried meals, it was not exactly our favorite among the seaweeds.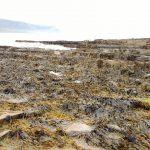 Gutweed, Ulva intestinalis
The worst part of Gutweed in foods is the fact that it just loves to keep sand in its fine hairy light green leaves – you will have to rinse it thoroughly and repeatedly, and again, and then some – unless you want to chew sand.
But once its rinsed, it makes a wonderful salad or, dried and fried, a crispy snack.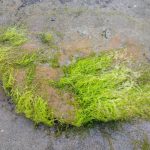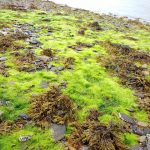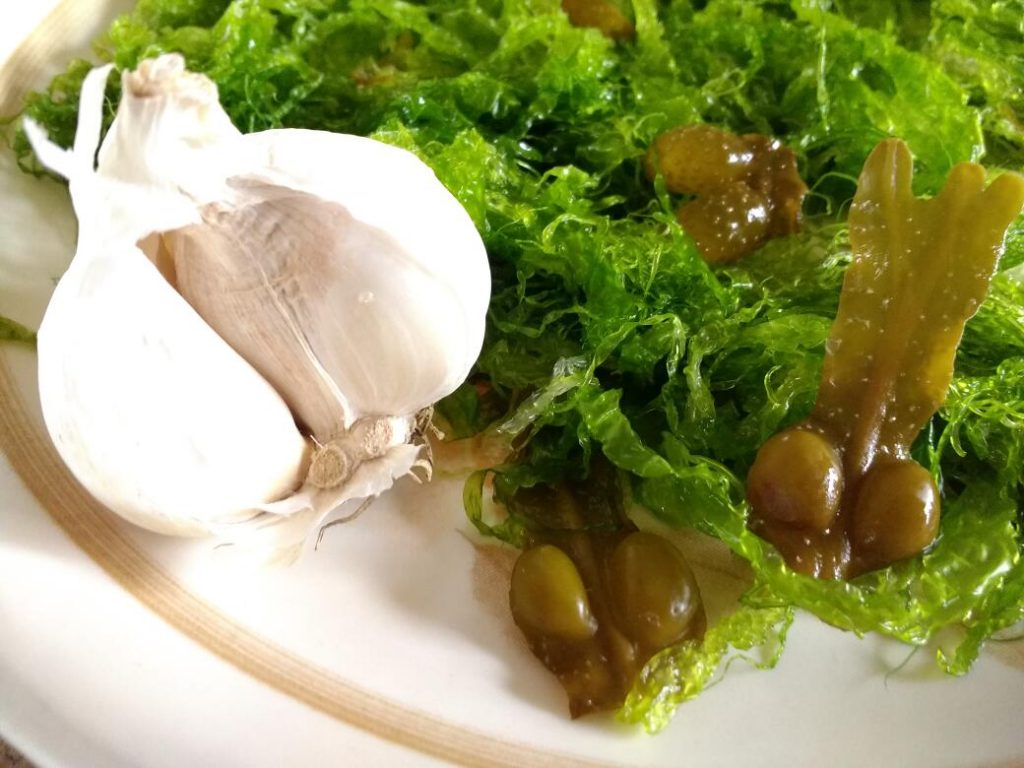 Kelp, Laminaria digitata
Kelp was once the center of big industry in Orkney, from the early 18th to the early 19th century.
Kelp would be collected, burned and sold as fertilizer, and source of potash and soda.
You can read more about it here:
Kelp Burning in Orkney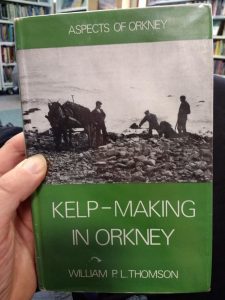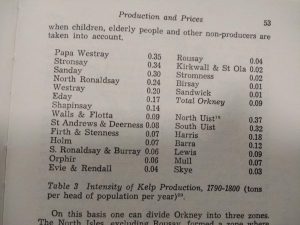 At Ness Point, you will find a lot of kelp washed ashore, but if you look to harvest some for food, go futher down on the rocks, and cut the tips (only!) of some of the plants still sitting on the rocks.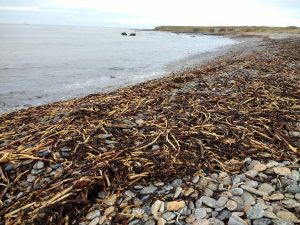 Under the name Kombu, Kelp is a common ingredient in asian cuisines, and the leaves we found in Orkney, are of very good quality and taste.
Our favorite way of preparing them is to use dried sheets, soak them in warm water for a bit, and then use them in miso style soups, as filling for dumplings where they blend nicely with shrimps or meat, or use them as vegetables in noodle or rice dishes. Kelp also adds a nice salty taste to bread.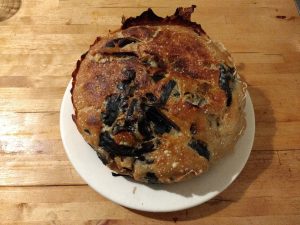 Sea spaghetti, Himanthalia elongata
Well, it looks like spaghetti, just greener.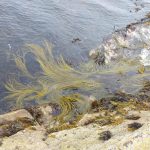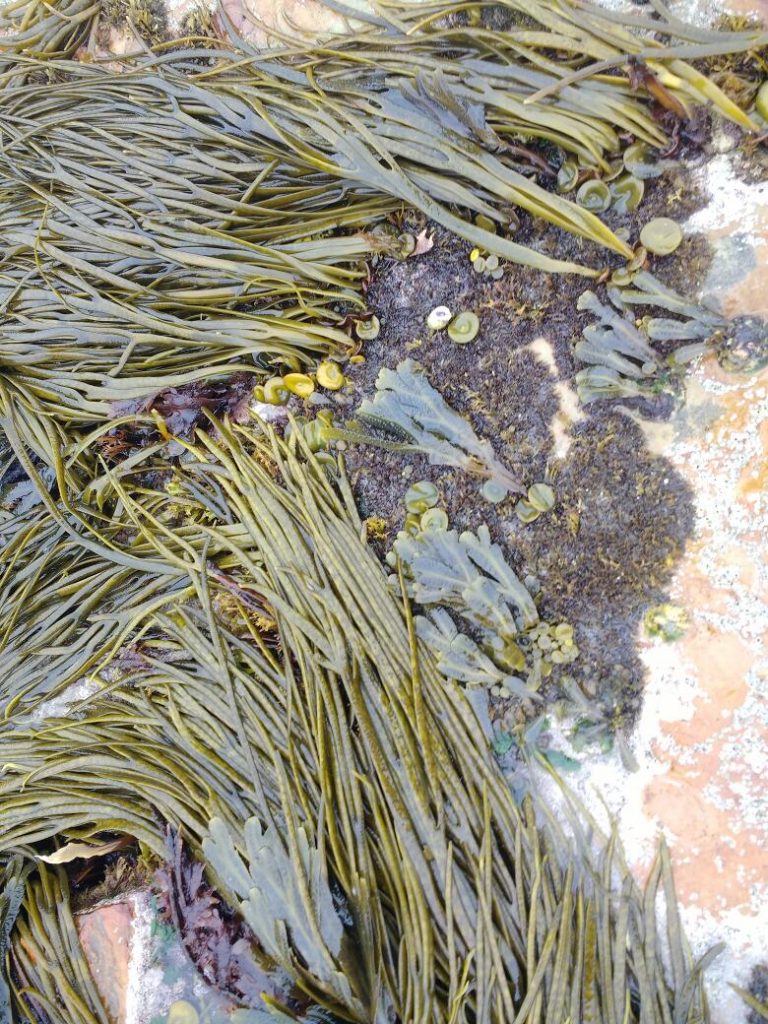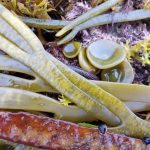 You will often find it together with kelp, in the lower tidal zones, where it sits on rocks, clinging to them with its very characteristic button-shaped hold-fasts.
It looks like spaghetti, and you can eat it like spaghetti: boil it for 15 – 20 minutes, keep the water which will have turned somewhat green and quite intense in taste. Use it to season your dishes, or to boil pasta in.
We love blending sea spaghetti with pasta, adding a little cream or soya milk, making a beautiful green and white mixed dish.
We also got the advice to boil sea spaghetti in milk, but we have yet to try this.
Dulse, Palmaria palmata
Our absolute favorite, the star of all the seaweeds, vegan bacon! Dulse!
It is a bit harder to find – look out for relatively small (10, 12 inch) red-brownish leaves with very characteristic finger-shaped tips.
Again, make sure you only cut a sensible amount – never take the whole plant.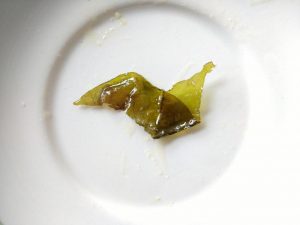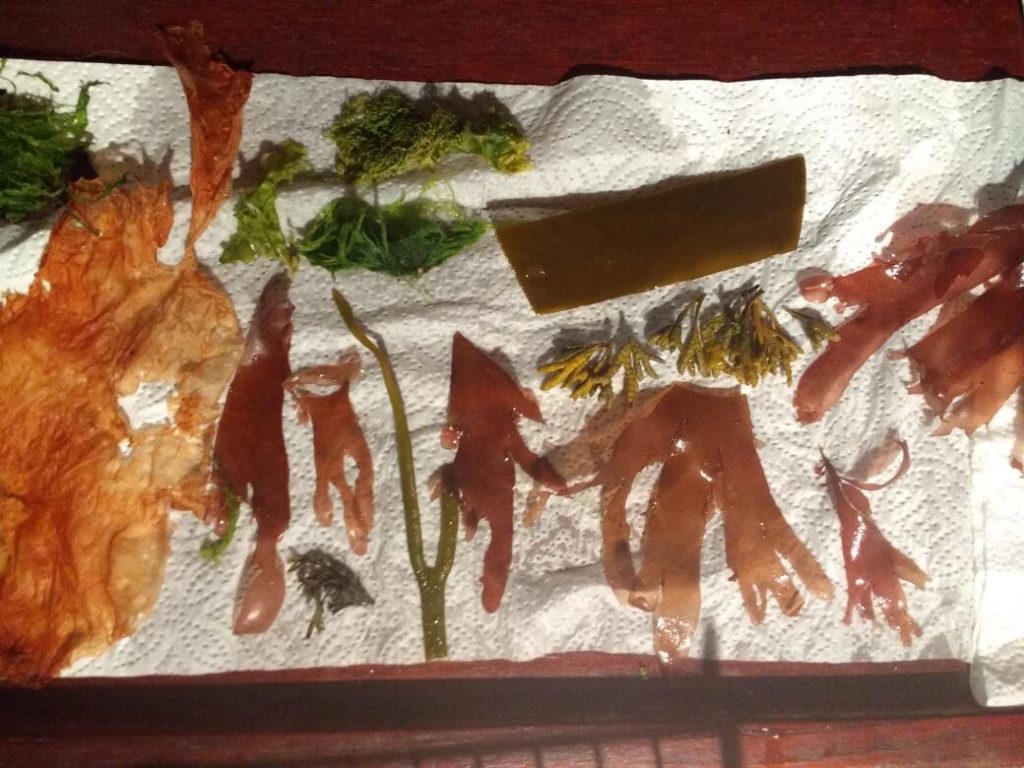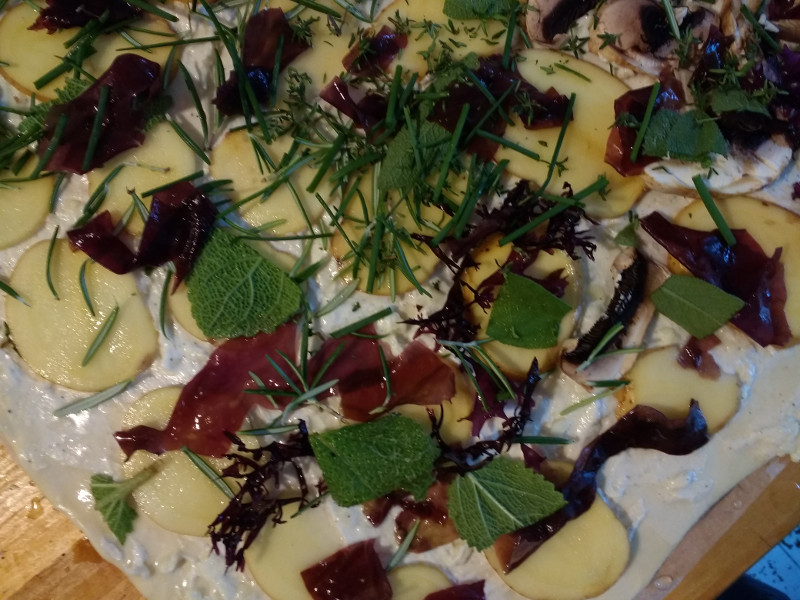 You can use these fresh or dried. The wonderful umami flavor, very close to "real" bacon is strongest when you fry fresh or dried leaves in butter.